DESCHUTES COUNTY SHERIFF'S OFFICE SEARCH AND RESCUE ASSISTS INJURED HIKER ON MISERY RIDGE TRAIL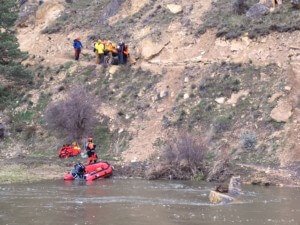 On 04/11/17, at 1138am, 9-1-1 Dispatch received a call in regards to a female hiker who had fallen while hiking Misery Ridge Trail at Smith Rock State Park. The hiker, later identified as 27 year old Cassie Mendoza, sustained non life threatening injuries as a result of the fall and was not able to walk any further under her own power.
Ten DCSO SAR Volunteers and one DCSO SAR Deputy responded to Mendoza's location, which was at the base of Monkey Face, on the west side of Smith Rock State Park. Mendoza was assisted down the trail via wheeled litter and then across the Crooked River via inflatable raft. Mendoza refused any further medical attention and was provided a courtesy transport back to her vehicle at the Smith Rock State Park parking lot.
The Deschutes County Sheriff's Office would like to remind those recreating in Smith Rock State Park that Misery Ridge Trail can be a challenging hike, with varying trail conditions and footing. It is always safer to hike or recreate in the outdoors with a partner. Mendoza was hiking alone and fortunate other hikers came upon her quickly and assisted her until SAR units arrived.