DCSAR RESCUES TUMALO FALLS HIKER
Prepared by: Deputy Stanage, Assistant SAR coordinator, Deschutes County Sheriff's Office
Location: Tumalo Falls (North Fork Trail)
Rescued: Alida Turner, 54-year-old female, Bend, OR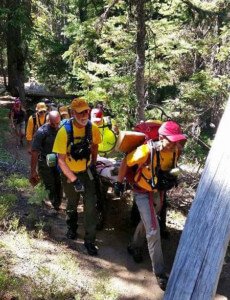 On 08/20/2016, at 11:14am, 9-1-1 Dispatch received a cell call from a hiker in the Tumalo Falls area. Alida Turner had fallen and injured herself about two miles from the trail head and was no longer ambulatory. Cell service in this area is poor and little other information was known.
One Deschutes County Sheriff's Office Deputy and nine Deschutes County Search and Rescue volunteers were activated and responded to Turner's location. The first volunteers made contact with Turner at about 1:00pm. DCSAR Volunteers stabilized Turner and transported her via wheeled litter back to the Tumalo Falls trail head where they arrived at about 3:40pm.
Turner was transported to Bend by her two friends to seek further medical treatment.