The 10 Essentials for Survival
Before you hit any trail, no matter how easy, no matter how short, no matter how close to home, make sure your backpack is loaded with the 10 Essentials for Survival. When in the backcountry you are responsible for your own safety, and any one of these ten items may help to save your life. Carry each one and know how to use them. The 10 Essentials was originated by The Mountaineers.
NAVIGATION: A USGS or equal topo map, a properly declinated (16 degrees locally) base plate compass, along with the knowledge of how to use them together. A simple GPS can also be quite useful as long as you're familiar with how to use it and the batteries aren't dead. A watch and cell phone should also be carried.

SUN PROTECTION: Sunglasses, sunscreen, hat (for hot OR cold, summer or winter weather.)

INSULATION: The MOST important consideration: NO cotton clothing! Carry synthetic or wool layers, waterproof/windproof rain jacket/ pants; extra gloves/hat, and extra socks as required. Wear layers of clothing to adjust insulation to activity level and current weather. Stay dry to decrease the risk of hypothermia (which can be life-threatening).

ILLUMINATION: Headlamp or flashlight, with extra batteries.

FIRST-AID SUPPLIES: Basic supplies such as Band-aids, gauze pads, triangular and compression bandages, etc. Include any medications you may currently be taking and a bee sting kit if you are allergic.

FIRE: Waterproof matches, butane lighter or candle stubs, plus fire-starting materials (paste, etc.). Do NOT depend on making a fire in bad weather!

REPAIR KIT/TOOLS: Multi-tool (Gerber®, Leatherman®, Swiss Army knife, etc.), Duct tape. Don't carry what you don't need.

NUTRITION: High energy, no-cook foods, such as high-carb energy bars. Carry at least 200 calories for every hour you will be out.

HYDRATION: Extra water; take at least (1) liter for short outings and at least 2.5 liters for all-day excursions. Remember that extra water will be needed for hot or cold weather, drink continuously during your outing. Don't wait until you are dehydrated!

EMERGENCY SHELTER: A Space blanket or bright plastic tarp (9' x 12') and a few large plastic trash bags. Bring something to insulate you from the ground, regardless of the time of year. You cannot dig a snow cave without a shovel, and you should not sit/sleep on snow without an insulating pad.
Recommended Reading
The Ten Essentials list first appeared in the third edition of Mountaineering: Freedom of the Hills. Released in 1976 by Mountaineers Books, Freedom is written entirely by volunteer instructors.
The origins of the list date back to our climbing courses in the 1930s, and the purpose of the Ten Essentials list has always been to answer two basic questions:
Can you respond positively to an accident or emergency?
Can you safely spend a night—or more—out?
The list has evolved over time from a list of individual items to a list of functional systems; the updated Ten Essential Systems list is included in Mountaineering: The Freedom of the Hills, 8th Edition.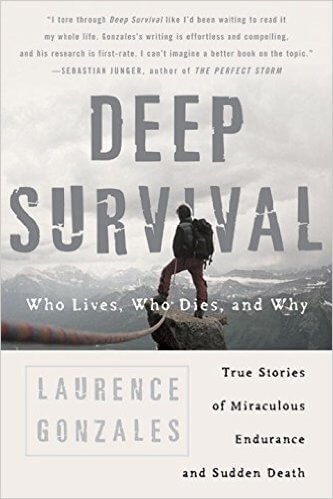 In Deep Survival, Laurence Gonzalez combines hard science and powerful storytelling to illustrate the mysteries of survival, whether in the wilderness or in meeting any of life's great challenges. This gripping narrative, the first book to describe the art and science of survival, will change the way you see the world. Everyone has a mountain to climb. Everyone has a wilderness inside.